This coming Saturday, March 17th 2018, the Indian Pacific Wheel Race/Ride will start just after 6.22am (Perth time). The IPWR is an unsupported ride across Australia, covering 5500km through deserts, coastal roads and alpine regions, finally ending at Sydney Opera House. On a ride like this, each rider is responsible for himself.
Below is Andre's photo and list of all the gear he is taking on this increadible challenge.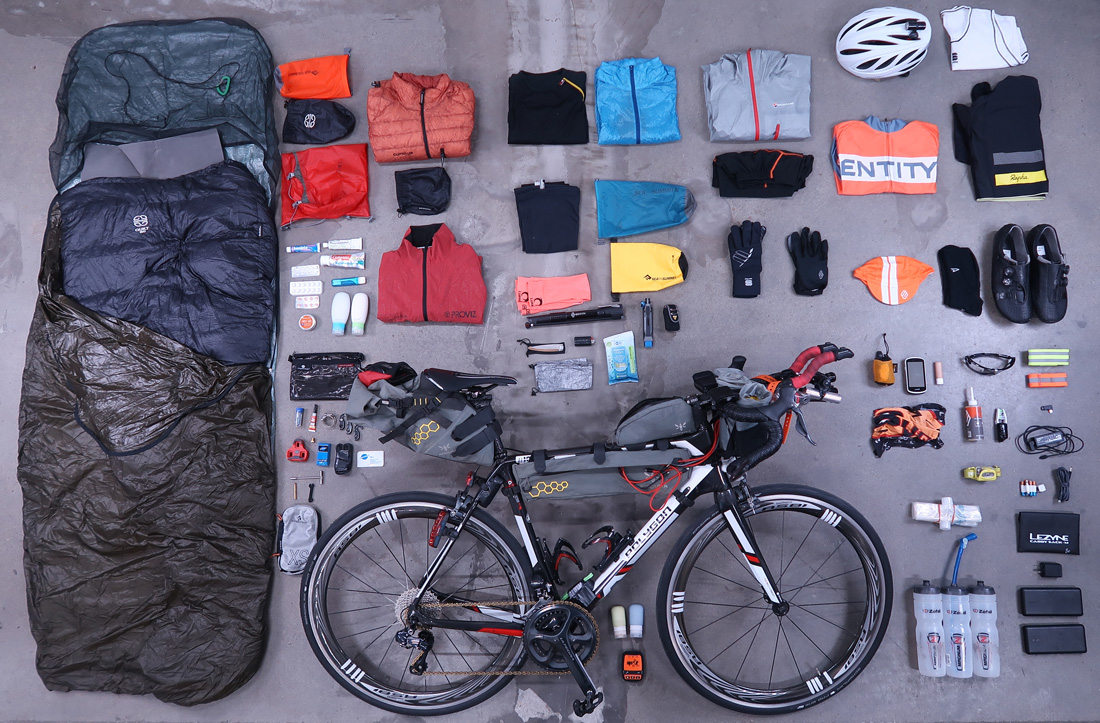 Rider
Entity Cycling Jersey
Entity Cycling cap
Rapha Brevet Bibs
DeFeet socks
Bont Vaypor S shoes
Sportful Thermodynamic Lite Sleeveless Base Layer
Entity RH15 Road Helmet
Entity MG15 gloves
Oakley Jawbreaker Photochromic lenses
Lezyne Femto Drive Duo Helmet light
Bike
Polygon Helios A8X
Shimano Ultegra 6870 (53-36T crankset, 11-34T cassette)
Shimano Dura Ace TT Shifters
Ritchey VentureMax
Ritchey TT bars
Fizik Bartape
Shimano RS81 C50 wheelset
Schwalbe Pro One 28c
Zefal Z-Liner puncture protection tape
Exposure Strada 900
Entity HL45 400 Lumens front light
Entity LS15 Safety lightset
Cateye 5 LED Rear Light
Moon Shield USB Rear Light
PRO Stealth saddle
Entity RP15 Carbon Road Pedals
Zefal Cyclops rearview mirror
Entity BC30 Red Bottle Cages
Aquapac Powerbank watercover
Voile straps 2x
Entity HP45 Telescopic pump
USB cables
2x Zefal Magnum 1 Litre Bottle
2x Tubes
2x Tyre Levers
Garmin 1030
Buff headband
2x Ankler 20.000mha Powerbank

Frame Bags
Apidura Backcountry Saddle Pack (17L)
Montane Minimus 777 Rain Jacket
OMM Kamleika Rain shorts
Sportful Neoprene gloves
Sea To Summit dry bag (2L)
X-Bionic Long Sleeve Base Layer
Cumulus Inverse Down jacket + bag
Sea To Summit dry bag (1L)
Proviz 360CSR Reflective vest
Eagle Creek Pack-It bag
Travel toothbrush
Toothpaste
2x 100ml containers (sunscreen and chamois cream)
Pills
Green Goo First Aid Ointment
Numbing gels
Eagle Creek XS tool bag
Fiber-Fix spoke repair
Super Glue
Pipe Clamp
3x Derailleur Hangers
3x Tyre boot
1x Tubes
Parktools Tube Patch kit
Presta to Schrader Adapter
Spare Cleat
2x Spoke Tool
Valve extender
Exped Compression Drybag
Borah Gear Cuben Bivvy bag
Cumulus Quilt 150
Gossamer Thinlite (shortened)
2x Platypus 2 Litres water bag
Sea to Summit foldable backpack

Apidura Backcountry Frame Pack (4.5L)
Lezyne Medium Caddy Sack
Cygnett 2x USB Wall Charger
1.8m USB Cable
6x AAA batteries
4x CR2032 batteries
Shimano Di2 charging device
L-shape USB connector
Cumulus Windy Wendy
Petzl Tikka headtorch
Wet wipes
2x Borah bags (spares)
Deejo foldable knife
Ligther
Topeak Mini 20 Multitool
Pedco Ultralight Tripod
Lurbel Rally Arm Warmers
Assos Knee Warmers

Apidura Backcountry Food Pouch (1.2L)
Zefal Magnum 1 Litre Bottle + Camelbak Hose and Bite Valve

2x Apidura Backcountry Food Pouch Plus (0.8L +)
Entity LB30 Dry Lube
DIY Chaincleaner
Chap Stick
2x Reflective ankle straps

Apidura Backcountry Top Tube Pack (1L)
Sea To Summit dry bag (1L)
Canon G7x Mark II

Revelate Spocket accessory bag
Spot Gen 3
2x 37ml containers (sunscreen and chamois cream)
How the bike looks like when everything is packed away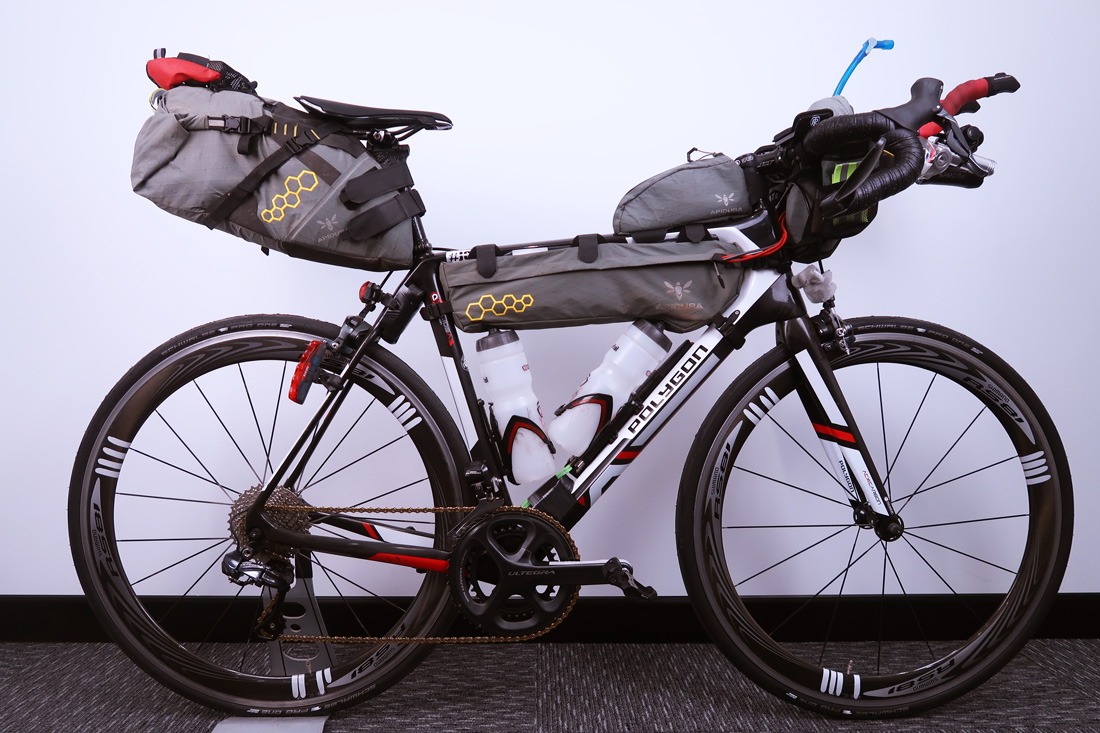 To follow the race, check the links below:
We will also try to keep you updated on his whereabouts and how the race is tracking for him. Keep an eye out for this space!