Meet Andre. He will be joining another 70 riders lining up for this years' 2nd edition of the IndianPacific Wheel Race, a Solo, Unsupported, Single-stage race from Perth to Sydney, covering 5500km through deserts, coastal roads and alpine regions, testing his endurance and mental fortitude. Entity Cycling is sponsoring Andre with Entity products to make his journey a successful one. Follow his daily updates below and his real-time position on the map Maprogress Tracker.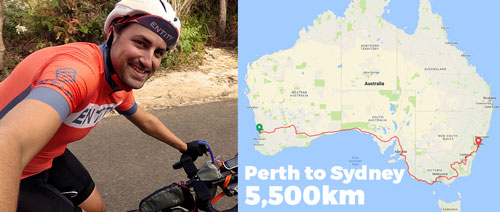 Day10 - Mar 25th - 140km
Ceduna has been on my radar for a few days now as this was the only town since Perth who had a sports shop with insoles. I visited them in the morning and got some insoles with a good arch support, hoping this would fix some issues I had with my neles and knees, and potentially fix my hot foot problem.
After fitting them to the shoes, I head off towards Port Augusta, seriously hoping these insoles to be miracle workers and sort me out.
Pretty soon I found out they made hardly any difference and foot, ankle and knee pain were still painful, to put it mildly.
Cycled to Poochera, 140km from Ceduna just to make sure my legs would or wouldn't get used to the new insoles.
I'm now trying my luck with hitchhiking to Sydney on a passing truck.
IPWR is over for me.
Day9 - Mar 25th - 152km
After a good night sleep, I knew there was only 150km to do to reach Ceduna, the only town in 500km with a sports shop that might help me with foot pain I've been having since day 1.
The wind was quite strong all day but mainly a crosswind, so it didn't affect speed that much but made riding in a straight line a bit more difficult, as well as keeping an eye out for road trains as their wind shadow was super strong. Around lunch time I stopped to watch the Formula 1 race and got to Ceduna by sun down.
Hoping the insoles from the sports shop tomorrow work so I can start putting some big days in and finish the Indipac.

Day8 - Mar 24th - 143km
With the huge progress made yesterday and the scheduled stop at Ceduna this Monday morning, I now had 2 days to cover 300 odd kms, so essentially rest days. I'm stopping in Ceduna to try and get some insoles with more arch support and try to eliminate serious foot pain I've been having since day 1 of the IPWR.
I started the day rough, only having slept less than 3h and being constantly woken up by people using the facilities next door.
At around 9/10am me and another 3 guys rode out, heading to Nuundroo, a "short" 144km away. The undulating profile of the road, lack of shoulder, sleep deprivation and another day where temperatures got to 37, made things difficult, more than expected.
We eventually made it to the roadhouse just in time for the Australian Grand Prix Qualifying session. We are all staying here tonight and leaving early tomorrow.
Day7 - Mar 23th - 379km
Oh wow... I don't even know where to begin with this day 7.
I woke up at 6am feeling like crap and wishing that some truck driver would look at me and offer a ride to Sydney. I kid you not, I would've said yes without blinking. Even thou I slept a solid 8h, body was still hurting and didn't feel like any of my niggles and pains got better.
I finally jumped on the bike on my way to Mundrabilla, where I was probably going to look for a truckie to take me back. However, on the ride to Mundrabilla, my body felt much better and I could put some power down, a first since leaving Fremantle last week.
The temperature rose to a crazy 44.5 degrees and I stopped at Mundrabilla for lunch and to improve the air vents in my shoes in an effort to make them more comfortable; been struggling with "hot foot" ever since the race started.
After lunch, I got on the bike and absolutely killed it on my way to the South Australia border. Had dinner and decided I was gonna take advantage of the tailwind and push through the night to Nullarbor Roadhouse, another 180km "down the road".
I was feeling great and got to the roadhouse just before 5am. Looked for a place to sleep and found a disabled toilet. Score!!!
Off to bed now, 3/4 hour sleep, big breakfast and we'll see how far I ride tomorrow.

Day6 - Mar 22th - 90km
Today was an interesting day... pain and niggles on feet, ankles and knees is not improving so I decided to keep it short and have a longer rest. The ride to Madura was again fighting a headwind but I finally got my first downhill since leaving Perth 6 days ago. Ohhh the joys of freewheeling

Day5 (Part 2) - Mar 21th -65km
Plans change all the time and today was no exception. Settling in for a night in Caiguna when they asked me and the other boys for $20 to sleep for a few hours in a patch of dirt. Naresh, Burty and I didn't really appreciate the request and left to coccklebiddy, a "short" 65km away.
Services open at 6am tomorrow so I have no choice but to sleep a solid 6 or 7 hours
Day5 (Part 1) - Mar 21th - 181km
Longest straight road in Australia done today. An undulating 166km without a single turn.
Wake up call was at 1am but the force of the wind outside made me reconsider my plans for the day. I finally got up and got moving after 3am. In previous days, the lack of night wind made it appealing to riders to get an early night sleep, or even a day sleep, and hit the road when the sun is down and wind non-existent. Today did that did happen. Wind was as strong at 3am as it was at noon.
The 90mile straight is not the most scenic road but the sheer size and length of it is proper Australian, where everything is just massive.
Bumped into Naresh just before midpoint and rode with him for a few kms before he stopped to fix a flat tyre.
Planning on keeping it short today so I can fix a few niggles on my body. The next town is 70+ km over but there's no time for me to cycle there and make the closing time. Will cycle during night time and get breakie there.

Day4 - Mar 20th - 189km
Another tough day at the office. After staying up late last night fixing tubes and fiddling with shoe cleats, waking up this morning was no easy task, especially when the bedroom was "mine" till noon.
I finally hit the road just before 7am. Had a massive breakfast, and enough water and food to last me to Balladonia, a "short" 190km away. The day started off beautifully, with an overcast and temperatures just under 20 degrees. I was hopeful that would last for the whole day but after 11am, skies cleared up and temp went up to a standard 32 degrees with a constant 15 to 20km per hour headwind. The road profile was super undulating and that just made things even harder.
Other than that, it was a boring road with nothing to see, unfortunately.
Met up with a few other riders here in Balladonia and the plan is for a super early night, with a 1am wake up call. Tomorrow we ride the "90 mile straight", the longest road in Australia without a single corner.

Day3 - Mar 19th - 256km
Had a wonderful sleep, despite all the traffic on the highway 10metres away from me. Set my alarm for 3am but could only get up after a few too many snoozes. Outside temperature was around 9 degrees and I quickly had to layer up to avoid a cold.
The first 90km were quite boring, the road had nothing of interest and the head wind made things harder again. When I got to the first stop, Coolgarie, I bumped into Naresh, who left 15min before me, as I was busy replacing a derailleur hanger. Unfortunately for him, he took the wrong road and ended up riding an extra 50km before realising his mistake. I made good progress throughout the day and managed efforts ok, at least I think I did.
About 60km from Norseman had my third flat tyre since started the Indipac.
Now in Norseman, I'm staying in a roadside motel so I can fix the broken tubes and get ready for the push towards Baxter tomorrow.

Day2 - Mar 18th - 255km
Day 2 of the Indipac and I'm knackered. After 4/5 hours of interrupted sleep, I got up after 2am. Wanted to get to Merredin before sunrise, catch a few guys that headed that way last night and stay in a "group" that is doing the distance I'd planned on doing.
Getting out of Merredin, a flat front tyre out of the blue. Fixed it relatively fast and got going. The day started cool with nearly no wind. Once the temperature hit 20, a constant head wind made my day that much harder. Tired legs from yesterday plus the head wind had me struggle to get 20km/h average.
A short 20 or 30km out of Merredin, another flat tyre, front again. Nothing stuck on the tyre and I decided to remove the puncture protection belt I've got between the tyre and tube, as it looked like it was curling and possibly pinching the tube. Replacing the tube was a nightmare as a swarm of, what it felt like, a gazillion flies were trying to eat me alive. The remaining of the day was slow in pace, hot and hillier than anticipated.
Objective for today was coolgarie but I decide to stay in a rest stop 80km away from coolgarie to get a good rest and get ready for another massive day tomorrow.
Day1 (Part 2) - Mar 17th - 78km
Final push for the day. Crosswind with the occasional tailwind made things a tad easier but body is not yet used to the constant abuse. Most riders around me are pushing to Merredin but I'll stay here for a few hours tonight, wake up at 2 or 4am and get to the next town by sunrise. Playing it safe on this first day and getting my groove for the next few days.
In numbers, I clocked 280km in 12hours with 2500metres of climbing. Drank an easy 10 litres of water and are not nearly enough for the day.
Will have dinner now and off to bed.

Day1 (Part 1) - Mar 17th - 193km
Set off from Perth with a huge group of dot watchers cheering us on. Some even came for a ride with us, first 50/60km then turn around back to Perth.
Pace has been super high and I've been struggling to get in my zone. After the 80km mark, I've been essentially on my own with some ride catching me and me catching others. Stopped at 200km mark for food and planning the afternoon. We've been getting a cool tailwind and everyone is trying to take advantage of it.